Changing Landscape in Utility Industry
Changing Landscape in Utility Industry
A lot has changed in the last year, as Power and Utility companies begin their transition to clean and sustainable energy. Despite changes in federal policy and the setbacks caused by the COVID-19 pandemic, companies strive to enter the new competitive landscape to stay ahead of their competition and comply with new regulations.
Regulation is inevitable, and people are demanding progress in the Energy and Utility industry. The pressure comes from a wide range of stakeholders, including President Biden, who recently re-entered the Paris Climate Accord. The new administration originally planned to invest $2 trillion towards the United States' goal of achieving net-zero greenhouse gas emissions by 2050. However, they have since modified their plan, as they expect energy and utility companies to lead this transition, with a new goal that will require them to achieve the clean energy standard by 2035. (Forbes 2021)
There are several key players in this clean energy shift, including automakers, power companies, and lawmakers. Automakers have significantly increased investments in the research and development of Electric Vehicles (EVs), likely in preparation for the upcoming regulations. Consumers have also driven demand for electric vehicles as innovations make EVs faster, safer, and more efficient than their gas-powered counterparts.
Economists speculate consumer demand will drive more innovation in the coming years, so we can likely expect to see changes in the automobile market very soon. Charging infrastructure and battery storage developments, fueled by the EV industry, may also enhance the electrical grid, as automakers set their sights on becoming clean energy providers. (Deloitte 2020)
In October 2019, Tesla CEO Elon Musk announced Tesla's goal to become a large distributor of global utility. The company's grid-scale Powerpack batteries have already created a ripple effect throughout the industry, as they are ranked as the largest lithium-ion batteries to date. In 2017, the first batteries were constructed and installed in a South Australian facility and had saved the facility nearly $40 million dollars in the first year alone.
Battery storage is an important element in completing the sustainable energy transition, which is why Tesla designed and engineered a utility-scale battery product known as the Megapack – assembled with 3 megawatt-hours (MWhs) of storage and 1.5 MW of inverter capacity. The Megapack is expected to help companies benefit from significant cost savings using its AC interface to achieve a 60% increase in energy density. (Tesla 2019)
In 2021, many anticipate Congress will finally pass a Clean Energy Standard (CES) after several efforts in the last few years. Numerous bills have been rejected thus far, but many expect to see changes in energy legislation that favor the goals of the EV industry. Additionally, the Federal Energy Regulatory Commission (FERC) issued a ruling late last year that could help consolidate the competitive landscape for organizations in favor of clean and renewable energy. Resultingly, we can expect disruptive change and plenty of growth in the energy and utility industries. It's new territory that hasn't been explored until quite recently, and it has companies in the industry both nervous and excited. (Deloitte 2020)
eQuorum has been supporting energy and utility companies with workflow and document management solutions for more than 20 years, carrying with them the expertise companies need to improve engineering productivity and data security. ImageSite and Engine-Box, eQuorum's on-premise and Cloud document management systems, respectively, make it easy for companies to control and secure the influx of documents necessary for innovation.
If you would like to learn more about Engine-Box or ImageSite, click here. Or, schedule a free trial or demo here. Engine-Box is now Available on AWS Marketplace, Amazon Web Services' leading SaaS solutions marketplace. Click here to learn more about AWS Marketplace.
Sources:
The Tesla Team. "Introducing Megapack: Utility-Scale Energy Storage." Tesla Inc., 29 July 2019, https://www.tesla.com/blog/introducing-megapack-utility-scale-energy-storage. 2 Feb. 2021.
Jim Thomson. "2021 power and utilities industry outlook: Exploring energy industry trends." Deloitte Touche Tohmatsu Limited., https://www2.deloitte.com/us/en/pages/energy-and-resources/articles/power-and-utilities-industry-outlook.html. 2 Feb. 2021.
Silvio Marcacci. "2021 Energy Predictions: U.S. Clean Energy Standard, Tripling Energy Storage, State Shift From Gas, Electricity Transition, Billions In Climate Investment." Forbes, 11 Jan. 2021, https://www.forbes.com/sites/energyinnovation/2021/01/11/2021-energy-predictions-us-clean-energy-standard-tripling-energy-storage-state-shift-from-gas-electricity-transition-billions-in-climate-investment/?sh=7165592e10bf. 2 Feb. 2021.
Our EDMS Solutions
ImageSite and Engine-Box (the Cloud version of ImageSite) are eQuorum's robust workflow and document management solutions, created to help workers manage their essential workflows while maintaining complete control over their engineering files and documents.  Not only do they provide a secure collaboration site for workers, but they also help organizations manage document distribution with third parties like vendors, contractors, and customers. Both systems are offered at a competitive price, enabling organizations to get a quick return on their investment by providing the features and functionality needed to help organizations improve efficiency, productivity, and collaboration.  Companies can choose from concurrent user subscriptions or named user subscriptions, ensuring organizations have subscription options that make sense for their business.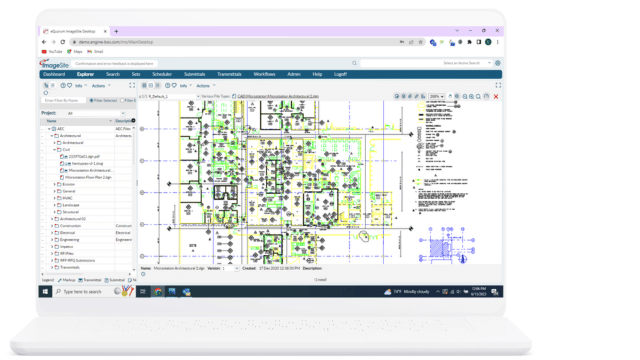 ImageSite
®
Our single source engineering workflow and document management system. Built in HTML5 so there is no software to deploy to client computers or mobile apps to download. Offered as an On-premise or Private Cloud system.
The eQuorum Customer Promise
In 2005, eQuorum developed the first all browser-based EDMS. The system, although for on-premise use, was still created to remove client software and JAVA from user computers and allow users to have a single viewer based on the simple navigation functionality of browsers. Today, eQuorum provides that same application in a private Cloud or a SaaS Cloud option.  We can do this because we are, and have always been, browser-based, understanding the enhanced speed, security, and usability of this technology.
With the abundance of document management systems on the market today, there's no doubt that choosing the right Cloud document management software can be a difficult decision. eQuorum is here to provide a comprehensive, powerful, and most importantly – affordable Cloud document management solution. We believe in providing real value to our customers by eliminating unnecessary costs, providing industry-leading functionality, and equipping your team with the right tools using cutting edge technology to bring your products to market faster.