Mobile Document Management for Engineers
Electronic document management systems (EDMS) have helped organizations improve efficiency and productivity for more nearly 30 years now, and issues regarding document access, workflow management, and versioning have made their way to the forefront of innovation. Generally speaking, a document management system is the first step in a company's digital transformation, as they begin to implement electronic systems across all facets of their organizations. Marketing, Sales, Finance, and HR departments have all reaped the benefits of this evolution; however, none have benefited more than their Engineering departments.
With the complexity of engineering workflows and the vast number of collaborators required in design and development, engineering departments face ever-growing challenges, generated by expansion and the need for forward-thinking innovations. As companies embark on their globalization journey, the need for mobile document management systems becomes evident.
SaaS Cloud EDMS features that enhance mobile document management

SaaS Cloud EDMS features that enhance mobile document management
Mobile Document Management and The Millennial Workforce
Smartphones, tablets, and laptops have made their way into the workplace, and the assemblage of mobile applications has driven companies from the conventions of a traditional workplace towards a decentralized approach to employment. Companies seeking diversity in their talent pool have utilized the array of mobile software applications to hire globally and better meet the geographical requirements of their top talent.
With the ever-increasing number of millennials entering the workforce, companies need to utilize this technology to adapt to the change in workplace expectations. The same can be said for following generations (i.e., Gen Z), as it's likely they will conform to the newer way of doing business. Today, millennials account for more than half of the American workforce, and it's estimated by the year 2025, 75 percent of the global workforce will be made up of millennials. Resultingly, companies have no choice but to change their mindset and discover innovative ways to attract new talent.
Moreover, the shift in technology simply makes sense for companies employing global talent, as there is a shortage of workers in certain engineering fields. In order to achieve or maintain a competitive advantage, organizations need to employ the help of technology experts throughout the world and thus require a secure and organized means of communication.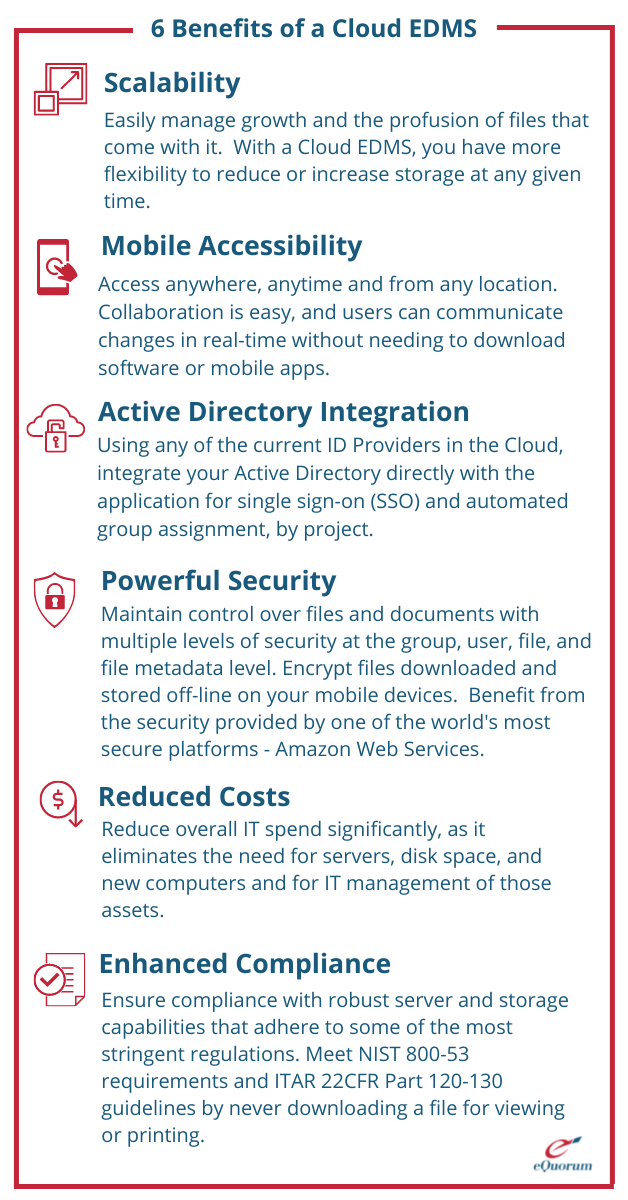 Collaboration with Third-Parties
When it comes to third-party collaboration, there is a rigid dichotomy between the capabilities of mobile and on-premise document management systems. While on-premise and mobile systems can both provide the same set of features, a mobile (or Cloud-based) document management system enables organizations to achieve a higher standard of mobilization.
Vendors and downstream contractors seldom spend time in the office (or at least they shouldn't), given the availability of mobile document management systems. This reality has initiated an understanding of its advanced applications, as top-performing companies now include mobile document management systems in their digital arsenal, typically in conjunction with real-time analytics software to monitor productivity and communications.
In the Architecture, Engineering, and Construction (AEC) and Utilities arenas, third-party organizations communicate with owners and engineers via standardized communication methods such as transmittals, submittals, and requests for information (RFIs). Ensuring these communications conform to a standard and are dealt with in a secure and timely manner requires organizations to understand the disparities between varying digital communications. Often time is of the essence, and being able to communicate issues, questions, and requests from the field, production floor, or at the vendor site can improve the speed of project completion as well as its accuracy.
As many companies require access to documents at the job site, it's imperative that third-party collaborators can easily use mobile applications on either their laptops, tablets, or smartphones. Intuitive mobile user interfaces allow companies to do just that, reducing the training requirements for workers. Mobile EDMS, such as Engine-Box.com, help companies achieve the accessibility for these organizations by making it easy to access, markup (redline), and edit documents remotely.
The Technology of Today
Mobile document management systems unify workers within and across organizations. Providing third-party collaborators with a mobile-first experience ensures workers can collaborate with owners in a way that is familiar to them. Today, nearly 81 percent of employees identify the need for mobile access to company documents, and a whopping 92 percent of workers review and collaborate over documents via electronic communications. There is a ubiquitous need for mobile document management systems, and therefore EDMS providers are increasingly providing Cloud-based systems.
The technology of today is vastly robust in comparison to the original electronic document management systems, as the features they offer provide companies with greater control over their files and documents, and the workflows associated to them. Whether your company deals in construction, energy, education, or government, a mobile Cloud-based document management system can ensure you will achieve greater efficiency and productivity.
The eQuorum Customer Promise
In 2005, eQuorum developed the first all browser-based EDMS.  The system, although for on-premise use, was still created to remove client software from user computers and allow users to have a single viewer based on the simple navigation functionality of browsers.  Today, eQuorum provides that same application in a private Cloud and SaaS Cloud option.  We can do this because we are, and have always been, browser-based understanding the enhanced speed, security, and usability of this technology.
With the abundance of document management systems on the market today,  there's no doubt that choosing the right cloud document management software can be a difficult decision. Whatever system you may choose, eQuorum is here to provide a comprehensive, powerful, and most importantly – an affordable cloud document management solutions.   We believe in providing real value to our customers  by eliminating unnecessary costs, providing industry-leading functionality, and equipping your team with the right tools to bring your products to market faster.
To schedule a demo or free trial of the software, please click here. Or visit www.eQuorum.com to learn more.