Engine-Box™ on AWS Marketplace

Engine-Box™ on AWS Marketplace
What is AWS Marketplace?
AWS Marketplace is an online store that makes it easy for customers to find, compare, and immediately start using the software and services that run on AWS. Visitors to AWS Marketplace can use 1-Click deployment to quickly launch preconfigured software and pay only for what they use, by the month or the year. AWS handles billing and payments, and software charges appear on the customer's AWS bill.
Why shop on AWS Marketplace?
AWS Marketplace features a wide selection of commercial and free IT and business software, including software infrastructure such as databases and application servers, IoT solutions, developer tools, and business applications, such as Engine-Box. AWS Marketplace enables customers to compare options, read reviews, and quickly find the software they want.
Software prices are clearly posted on the website and customers can purchase most software immediately, with payment instruments already on file with Amazon Web Services. Software charges appear on the same monthly bill as AWS infrastructure charges.
Engine-Box™ on AWS Marketplace
Engine-Box is now available on AWS Marketplace, Amazon Web Services' leading B2B, SaaS solutions marketplace. With AWS Marketplace, you can streamline Engine-Box implementation by subscribing directly through the marketplace.
• Products on AWS Marketplace have been scanned and reviewed by the AWS team, ensuring end-users are subscribing to quality, AWS-approved, products.
• Billing and deployment are handled by AWS Marketplace, ensuring seamless implementation and a smooth customer experience.
Software as a Service (SaaS)
Software as a Service is a delivery model for software applications whereby the vendor hosts and operates the application over the Internet. Customers pay for using the software without owning the underlying infrastructure or needing to manage any of the computing or the applications. Typically, computing infrastructure is included in the price of the SaaS application.
Can we use Engine-Box™ without going through the Marketplace?
eQuorum provides a private Cloud option that also runs on AWS, where customers do not share the application with other customers like they do in the SaaS option.  In addition, eQuorum provides the exact same software for on-premise installations.  Hybrid configurations, using both on-premise and Cloud instances, are available and make for easy deployment of a distributed information model for third party access and organizations with global locations.  For either private Cloud or on-premise solutions, please call us at the number below, as these options are not available directly through the Marketplace.
How do I subscribe in AWS Marketplace?
1. Click the link in the header, or visit https://aws.amazon.com/marketplace and search 'eQuorum'. (Shown Below)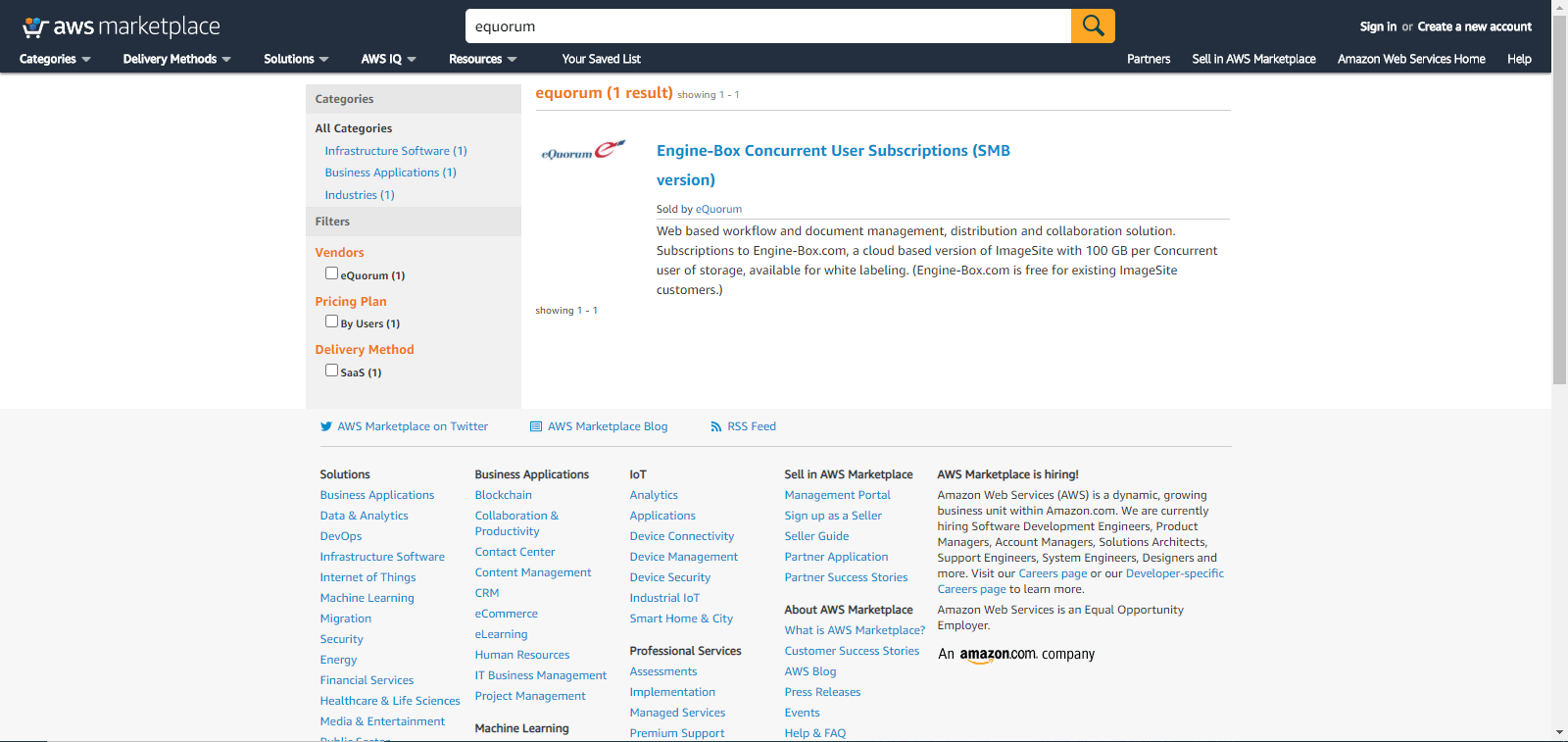 2. You should now see Engine-Box listed below. Select the listing and it will bring you directly to Engine-Box's AWS Marketplace page. (Shown Below) 
3. Click the yellow 'Continue to Subscribe' on the top right side of the screen. You will be directed to the payment screen. (Shown Below)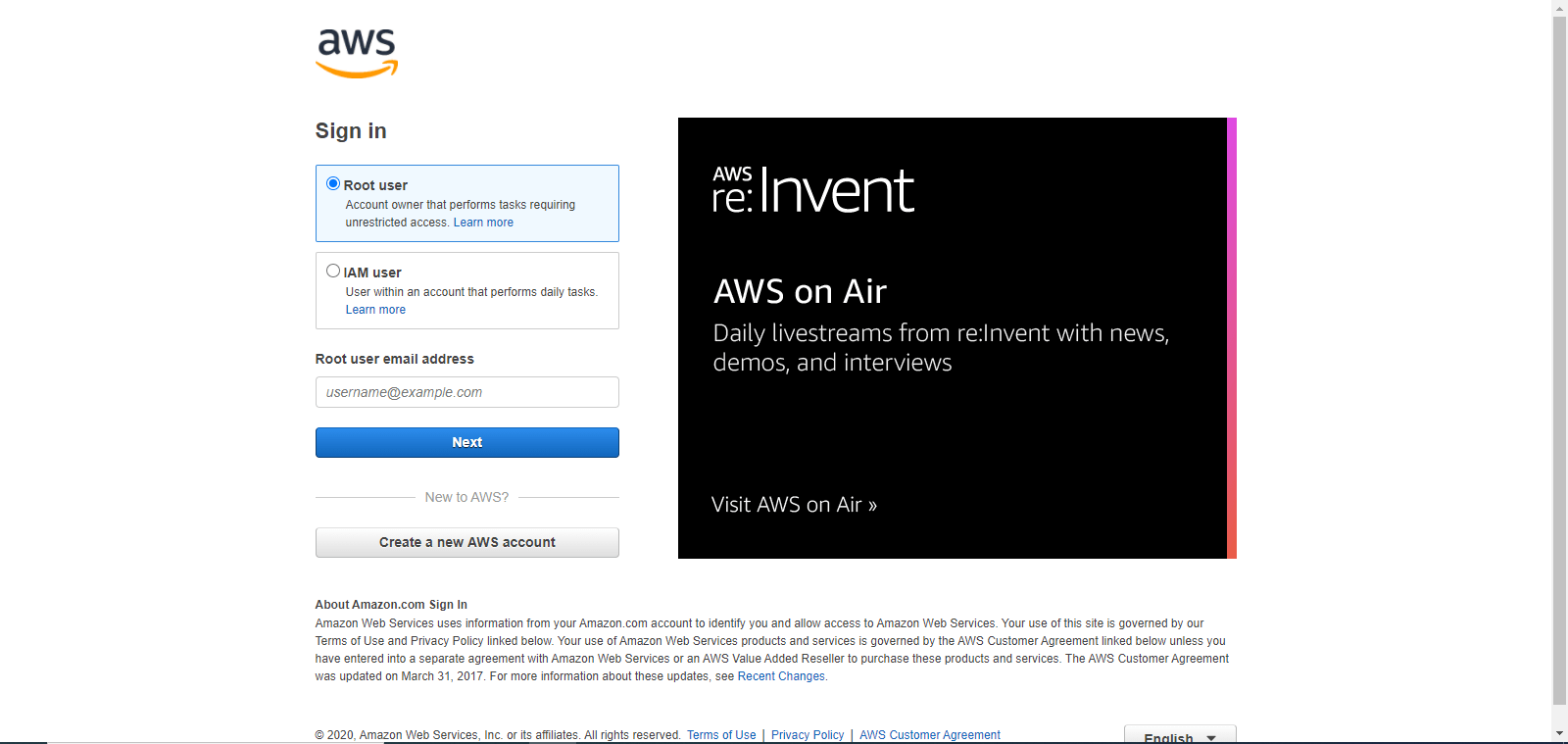 4. Sign in or create an AWS Account, then proceed with your payment. After that, you're ready to go!
Have additional questions?