Engineering Workflow Management
Engineering Workflow Management
What is Engineering Workflow Management Software?
ImageSite is an engineering workflow software system that automates your most important engineering and business processes. Define your work as a series of inter-related workflow steps with assigned deadlines. Assign users to perform tasks at each step, with detailed instructions and all the documents the user needs linked directly to the assignment along with a desired deadline.
Manage engineering workflows using our canvas-like building tool, to easily create, edit, and conceptualize workflows. Using simple rule-based logic, you can control the actions of a document at each step, eliminating the need for the manual transfer, deletion, publishing, copying, or archival of documents and drawings.
Workflow+ allows system admins to automatically adjust user permissions at each step, ensuring your company's files are managed securely and only when needed or create totally automated lifecycle templates such as for approval routing or archiving.
Workflow+ can be used to manage a wide variety of review and approval processes, and includes a versatile voting feature that can be modified depending on your company's needs. This module is highly intuitive for all members of your organization, giving permissioned users the ability to create and automate complex engineering workflows in just minutes!
The software automatically notifies users at each step, either through conventional emails or internal notifications that appear in the user's Dashboard, or through both. Users can establish how often they receive internal notifications and through which mechanism they prefer.
Read the White Paper: Managing Technical Workflows in Real-Time
Why Use Engineering Workflow Management Software?
Internally, Workflow+ can be used to automate work processes in small groups or across an organization to vastly increase project efficiency and ensure nothing falls through the cracks. Externally, it's a great way to connect with vendors, contractors, and customers. You can utilize Workflow+ to increase productivity and control key document-centric workflows, such as engineering change requests, file distribution, document processing, and document retention. You can even integrate Workflow+ capability with Transmittals and RFIs/Submittals to initiate, track, and report on these key functions.
Engineering Workflow Management
The needs of engineers differ vastly from those of other departments. Organizations can design engineering workflows to manage the review and approval processes needed for quality management and ensuring there are no errors in prior specifications. Workflow+ helps organizations manage engineering workflows and the complex file relationships between them to eliminate human-error from the equation.
Engineering workflow management software can also help organizations improve key metrics like time to market by reducing delays caused by poor or inefficient communication. Using integrated workflows, teams across various departments and organizations can seamlessly communicate changes and express ideas and solutions in a unified environment.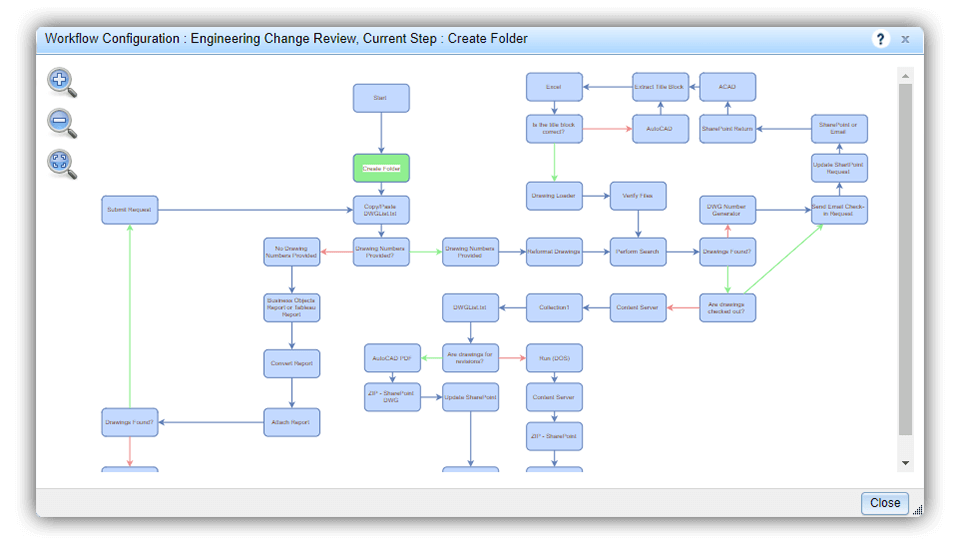 Engineering Change Requests
Automatic version control of updated drawings
Approval tasking using different voting schemes
Different schedules for workflows can be used for expediting
Complete tracking of all actions and associated comments
Delegate assignment of responsibility or request input from other users
Files move automatically to applicable folders for queue management
Send emails to third parties as each step is initiated
Automatic application of approval or rejection watermarks for printing
Specific workflows for dispute resolution